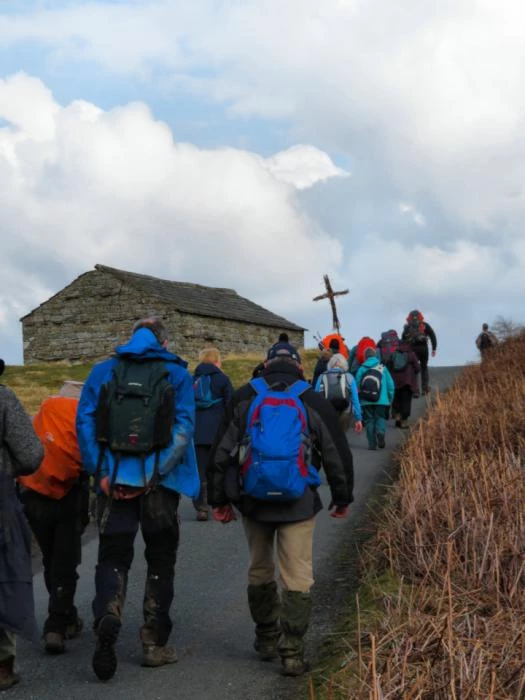 It was bleak, snowy and foggy as the band of pilgrims set off on the Good Friday walk from Keld to Grinton. The trek over Kisdon on the 'Corpse Way' was slippery and muddy and on arrival in Muker the smiling faces of the parishioners greeted the travellers as in times of old.
Following tradition our contemporary pilgrims would stop for a time of reflection, listening to the Easter story; and at Muker and Gunnerside hymns were sung as well.
Lunch at Gunnerside was supplemented with heavenly cups of tea served by angels and that was a sign for the weather to change. The sun came out, numbers in the group grew and up they went onto the heights above Strands before slipping and sliding down to Isles Bridge and along the Swale Trail in warm sunshine to Low Whita Bridge.
More tea and biscuits were served as from a 'table in the wilderness' by some Good people of Reeth, not so good were the two thieves we heard about in our reflection there; the one who was sorry was promised a place in paradise...
Moving on past the stepping stones and swing bridge the 'cathedral of the dales' appeared as steps quickened and the consumption of hot cross buns, drinks and the chance to rest weary feet gave the forty or so pilgrims a small taste of paradise.
The walk started in bad weather and finished with a 'feast'; tired bodies brought back to life. Like the Easter 2000 years ago, all seemed lost as Jesus died on Good Friday; and on Easter Sunday his followers found his grave empty and they went on to enjoy many meals with him in the following days.