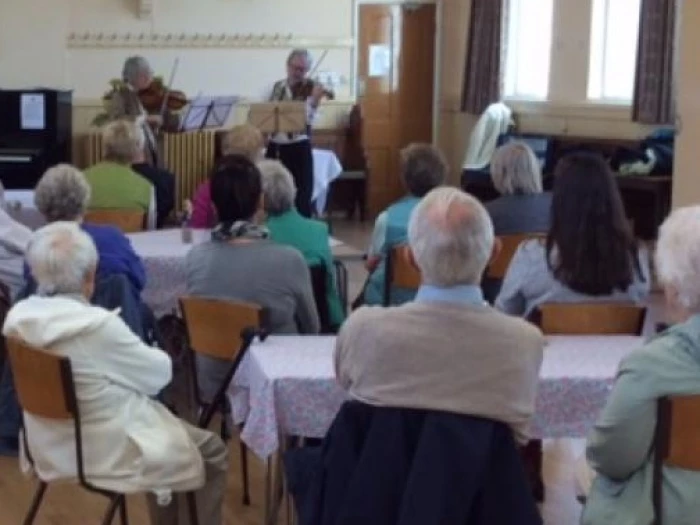 A Touch of Class

Led by Jonathan, Caroline & Elizabeth...two violins and a piano....in Leyburn church hall on Tuesday afternoon. Over 40 folk gathered, sitting informally round tables, held enthralled by the music that emerged from here there talented individuals and their instruments.
Donations were offered to the work of 'All We Can', as well as the hall refurbishment project.
Afternoon tea appeared, weighing the tables down with sandwiches, tarts, scones and cakes, washed down with good hit Methodist tea. Almost like the pied piper, nobody moved as the music began again- even though the whole afternoon was informal, the quality, expression, care and love that was heard kept everyone held firm in their seats. Even the kind folk looking after the kitchen & consequent washing up waited till all was played & heard- no one wanted to miss a moment of this exquisite music played by such talented friends.
Who knew they'd met the daughter of Yehudi Menuhin years ago, when instrument practice was not perceived as a chore for Jonathan, though he was asked by the wise master if the young boy found his music practice hard, Yehudi commented 'just you wait' and this afternoon Jonathan acknowledged the wisdom of those words. A professional painter once commented that he was unable to paint a landscape until he knew it well, and had begun to understand it – during this afternoon we could see how the same could be said of the music we heard: clearly known, loved and understood so well by each player it seemed to become part of them as they played.