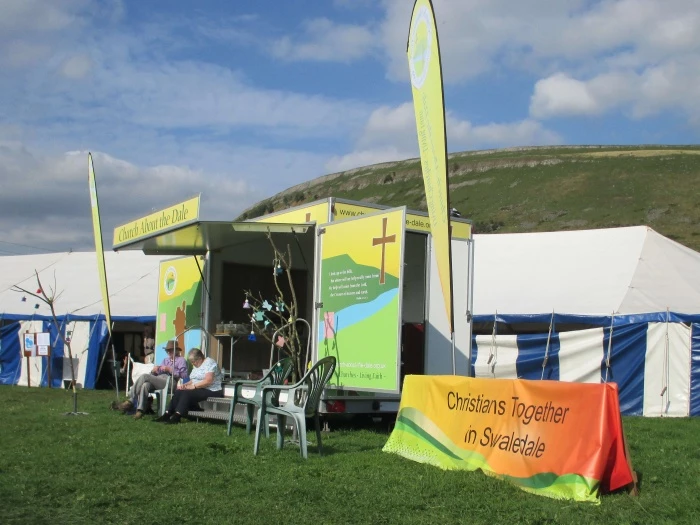 Muker Show 2016
Every year on the first Wednesday of September a traditional agricultural show attracts thousands to the village of Muker. The show begins with a procession of the judges from the Farmer's Arms to the showground to the rousing music of the Muker Silver Band. The showground hosts tents and stands from local organisations and farming businesses; other tents host all manner of competitions. There are fell races and the show ends back at the Farmer's Arms with hymn singing to the sound of the Muker Silver Band.
Christians Together in Swaledale have always been welcome at the show and this year made use of the 'Church about the Dale' trailer. Taking the theme of 'angels', hymn books were re-cycled into angels, knitting needles and wool were available to knit small woolly angels (sadly none could demonstrate finger knitting skills from the lead mining days) and 'reasons to be cheerful' could be written by passers-by on paper angels and hung on two 'trees'.
The trailer provided refuge to people and many conversations were held throughout the day. The organisers have already extended an invitation to us for next year and that will take place on Wednesday 6 September; we hope to see you there.