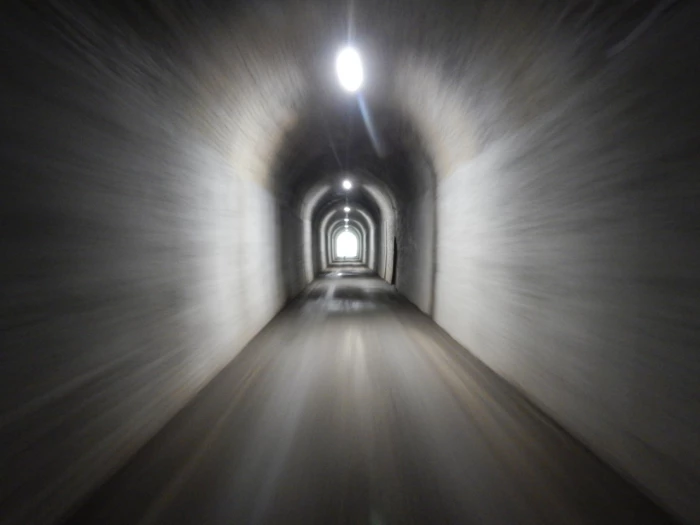 Pete Kelsall a local preacher and cyclist in the West Midlands posted this image after one of his bike rides. He duly obliged when I asked him to write some words for us about it.
As this different' year draws to a close, there's light at the tunnel. Unfortunately, it's a train charging towards us! It's an old joke, suitably dry and wry for these odd days.
David's reference to the valley of the shadow of death maybe has some resonance with our modern idiom of tunnels and light. In the valley, as the sun moves over the lip of the surrounding hills and the gloom of twilight makes finding your way more difficult, the traveller can feel vulnerable and lost.
Yet shadows can only exist if there is light, it's just that, for a time, something comes between our eyes and the source of the light, but the light remains. The setting sun will rise, the tunnel route may twist but it doesn't change or become uncertain.
The picture is of a tunnel at Wetton in Staffordshire built to carry a railway. The reason the trains went through a tunnel and not alongside the river is, apparently, that one of the railroad owners built a house in the valley and didn't want his view spoiled by passing trains.
At times our lives are affected by the words and actions of others. Something said or done, puts a shadow over how we feel. Yet our value and who we are is not determined by other people but by God who loves us so much he continually seeks to bring us out of darkness into the light of his love and his presence.
At times, as now, our lives are affected by events and situations way beyond anything we can influence or control. Yet the light of Christ has not moved, it's just that something in the current situation can affect our freedoms and our attitudes and come between us and that light and we feel as if we're in the shadows looking for a way, as if the path of our life has been diverted into a tunnel away from the light.
In other generations the people of God have faced war, disease, famine, flood, and they held the faith. The witness of the Good News was not lost but faithfully passed on.
For God, who said, "Let there be light in the darkness," has made this light shine in our hearts so we could know the glory of God that is seen in the face of Jesus Christ. 2 Cor 4:6