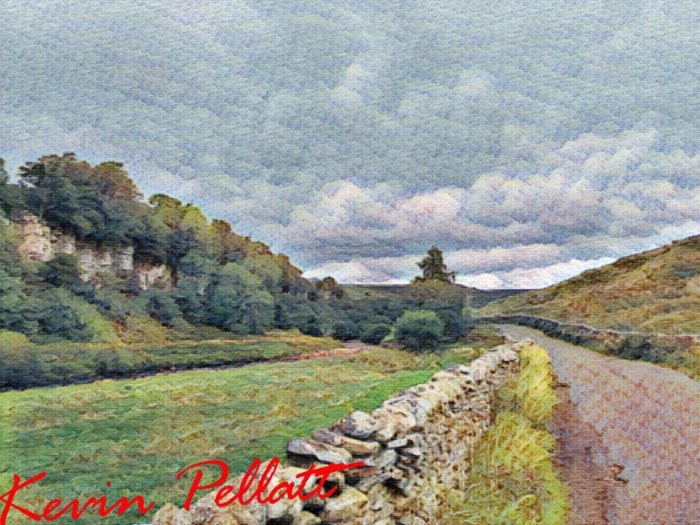 At few months ago I discovered an old programme from the 1980's on BBC 4 called 'The Joy of Painting' in which artist Bob Ross paints a landscape in 30 minutes. I'm not an artist but watching Bob build a picture from a blank canvas to the most amazing scene is fascinating and his quiet voice and manner very restful.
As he's painting, he talks about creating 'happy little clouds' and 'happy little trees' and that people should only paint to enjoy it. He encourages the audience watching that they can paint too and always ends his programmes with the words, "God Bless," which is lovely.
In 1995, at the age of 52, Bob Ross sadly died from cancer but today his programmes are reaching a new audience. They're especially having an impact on people's mental health and anxiety, as they find peace and contentment from watching him paint and by taking painting up as a hobby. Bob Ross would never have imagined he would still be so popular today, that his paintings would be so easily accessible or his blessing at the end of his programme still reaching out to thousands of people across time.
There is always a desire for peace and contentment, especially when we face anxieties and hardship. During his itinerant preaching, the Apostle Paul knew what that was like. Sometimes he was well fed and comfortable but at other times he suffered considerably and yet, he was able to say in all sincerity, that he could cope with whatever his circumstances were because, he said, "I have learned the secret of being content in any and every situation". (Philippians 4: 10-13)
His secret was Jesus.
For this reason, he said, "I can do anything in him who gives me strength." Jesus, who had endured the Cross, gave Paul the strength to endure all things and be content with whatever situation he found himself in.
We can draw on the same strength as Paul because whatever situation we find ourselves in, Jesus is beside us. He is our hope,
peace and contentment; He is the one who loves us, strengthens us and enables us to endure all things.