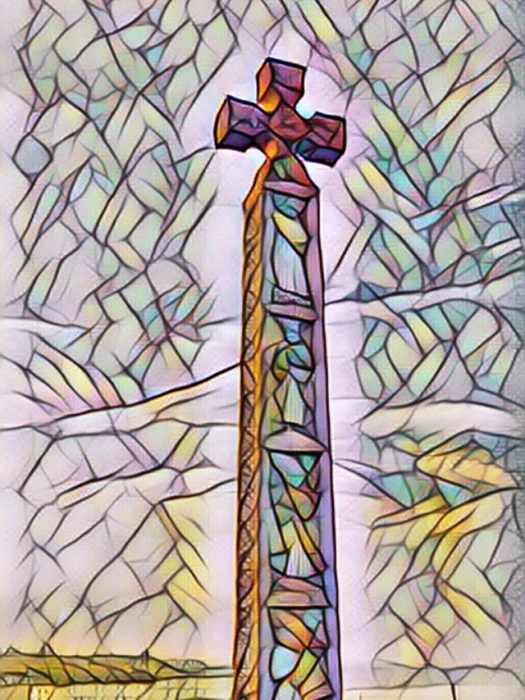 Siggy Parratt-Halbert works for the Discipleship and Ministries Learning Network of The Methodist Church, and applies Forest School training to the concept of Forest Church and outdoor worship.
Samhain, Harvest and All Saints.
Samhain is a celebration of life and death, and the harvest. The church celebrates All Saints and All
Souls, held on 1 and 2 November respectively.
All Saints' Day is a very old feast arising out of the tradition dating from the 4th Century of celebrating
the martyrdom of the saints on their Saints Days. It wasn't until 609AD that one day in the year was set
aside to remember all martyrs. It used to be called All Hallows' Day, which is where All Hallows' Eve gets
its name. Hallow is an old name for saint. And in turn, saint is the name for a follower of Christ, not just
referring to someone who has been canonised, which tends to be the modern meaning. So All Hallows'
Eve is actually a Christian festival, as are the two days that follow. It's unfortunate that All Hallows' Eve
in particular has morphed into something that in this country is unrecognisable as such.
So the evening vigil of the Feast has grown up in the English speaking countries as a festival in itself, All
Hallows' Eve. While some Christians refuse to observe the holiday, considering it "pagan", the date is
simply the eve of the feast of All Saints. In fact, many customs of Halloween reflect the Christian belief
that on the Feast's vigil we mock evil, because as Christians, it has no real power over us. In the Middle
Ages, poor people in the community begged for 'soul cakes', and upon receiving these, they would
agree to pray for departed souls. This is the root of our modern day "trick-or-treat", originally an English
construct that was exported to America and back again. The custom of masks and costumes developed
to mock evil and perhaps confuse the evil spirits by dressing as one of their own. In some Christian
traditions, especially in Mexico and some eastern European countries, it is an opportunity to
commemorate departed relatives and friends, with picnics and the last flowers of the year.
Samhain is also about marking life and death, and remembering those who have gone before us.
Christianity has a long tradition of praying for those who have died, commemorating loved ones who
have passed away. There are close links between the Christian festival and the older samhain.
This item is an extract from a booklet 'Outdoor Worship and Forest Church. Praising God from within Creation' by Siggy Parratt-Halbert, Kevin Pellatt and Sue Pellatt. The views presented in this booklet are those of the authors and cannot be taken as indicative in
any way of the Methodist Church.