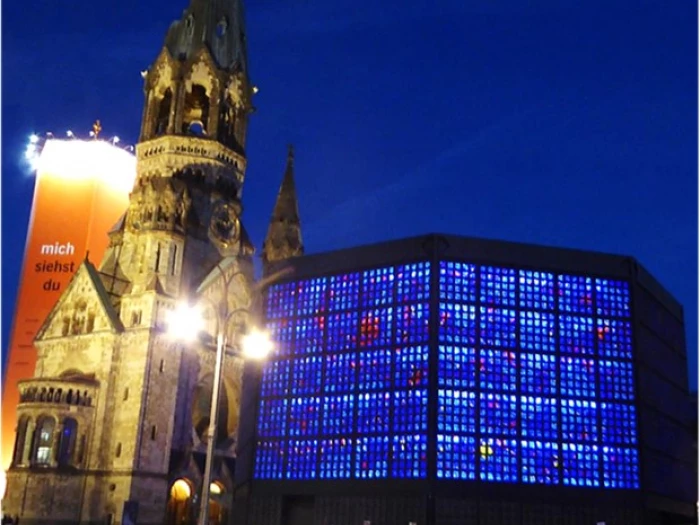 As we move towards Christmas, we remember things from the past including Jesus' first Coming, and celebrate God's gift of His Son to us in our gifts to others. A place that connects these is a church in Berlin, which was badly bombed in 1943.
After World War 2, some people wanted to pull Kaiser Wilhelm Memorial Church down, but locals wanted a church. Egon Eiermann won the design competition with an octagonal church and hexagonal tower with the walls made of a concrete honeycomb containing 21,292 stained glass panels. He wanted the best glass available, so it was designed by Gabriel Loire (inspired by the colours of the glass in Chartres Cathedral). Each panel was handmade and Loire went to Berlin to ensure that every piece was put in the right place. The colours of the glass have meaning with the majority blue for peace, some red for joy and green for hope.
The damaged spire of the old church was made into a memorial against war and destruction, a symbol of reconciliation. It contains a crucifix made of nails from the bombed Coventry Cathedral. It has been nicknamed "the hollow tooth".
Following a 2016 terrorist attack on the adjacent Christmas market, there is another memorial in front of the new church to its victims.
Both the old and new churches are symbols of reconciliation and peace, just like Jesus' coming on earth.
The most expensive glass was used because it was a gift to God and light shines through it. God gave us His best when He sent His Son into our world. At Christmas, we remember and celebrate God giving us the biggest, most expensive gift ever because He loves us so much. We cannot give God a beautiful building, but we can give Him our lives, and ask Him to use them how He wants, to follow Jesus' example helping others and telling them about God's big gift to everyone. 'Thanks be to God for His indescribable gift!' 2 Corinthians 9 v: 15.